Where should I put my Canopy Humidifier?
Updated a month ago
At Canopy, we believe that comfort should seamlessly integrate into your lifestyle. Whether you opt for our Bedside Humidifier or the Humidifier Plus, rest assured that we've designed them with your convenience and wellness in mind.
Designed to be your nightstand's ideal companion, the Canopy Bedside Humidifier boasts compact dimensions of 10 x 7 x 8.5 inches. With a weight of merely 3 pounds, before water is added, it effortlessly blends into your space. To maintain optimal performance, we recommend placing this unit on a tabletop. This choice prevents dust and debris from your floor from being drawn into the fan, ensuring pure comfort. Positioning your Bedside Humidifier near your bed provides you with the ultimate hydration for your skin and overall wellness. Beyond your bedside, consider placing Canopy in spaces where you spend time – living areas, kids' rooms, home offices, and beyond.
For larger rooms, the Canopy Humidifier Plus is your go-to choice. With dimensions of 14.5 x 9.5 x 12 inches and a weight of 6.6 pounds when empty, this larger model is tailored to match the scale of your spacious interiors.
Elevate your greenery's health by placing the Humidifier Plus nearby, especially among a group of plants. Maintain their vibrancy and prevent brown spots with optimal hydration. Alternatively, the Humidifier Plus can be positioned on the floor beside your furniture. Just remember to position it outside your walking path for unhindered movement.
At Canopy, the perfect fit for your space is an integral part of your experience. Discover comfort designed for you today with Canopy.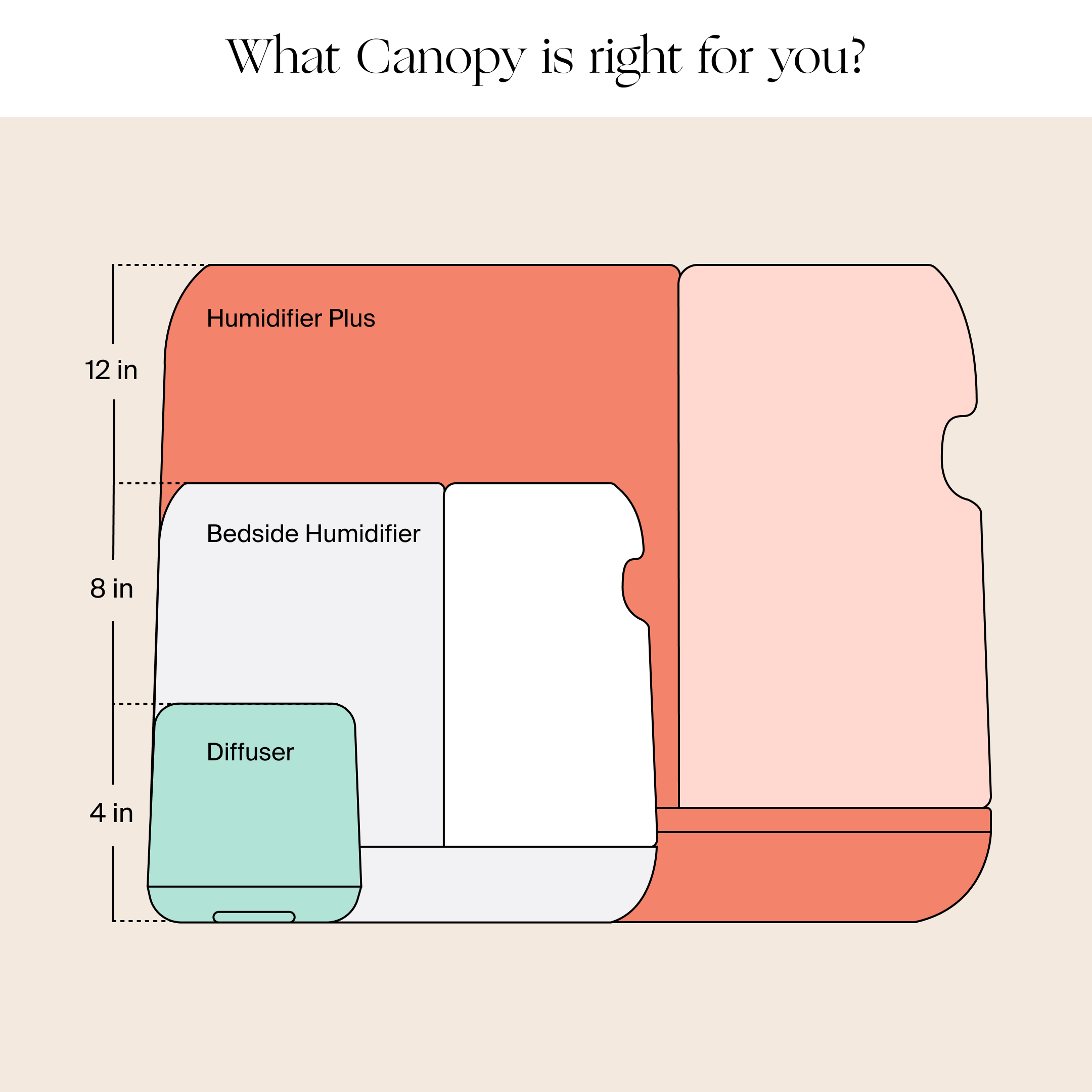 Was this article helpful?